Electric Vehicle Charging Stations at UC San Diego
Parking at EV Charging Stations
A valid UC San Diego A, B, S, D or V (visitor) parking permit is required to park in campus or medical center EV charging station parking spaces. The first 30 minutes of visitor parking is free when using the ParkMobile app or adjacent pay station. Instructions are posted at EV charging stations.
A vehicle that is parked in an "EV Charging Only" space but is not actively charging may be cited and/or towed. (CVC Section 22511)
Vehicles parked in "EV Charging Only" spaces must be actively charging. Parked vehicles that exceed the posted time limit and/or are not actively charging will be cited (CVC 21113A).
Charging Station Locations
UC San Diego is San Diego's largest public charging hub with 331 Level 2 (typical charging) and 13 Direct Current (DC) Fast Chargers. We're in the midst of rapid program growth with an additional 760 Level 2 and 35 DC Fast Chargers anticipated by the end of 2025. This network supports our neighbors, including residents of nearby multifamily housing developments that lack EV infrastructure, in addition to supporting UC San Diego commuters and fleet vehicles.
Types of Charging
The campus has three types of chargers. A UC San Diego parking permit or hourly parking payment is required in all spaces.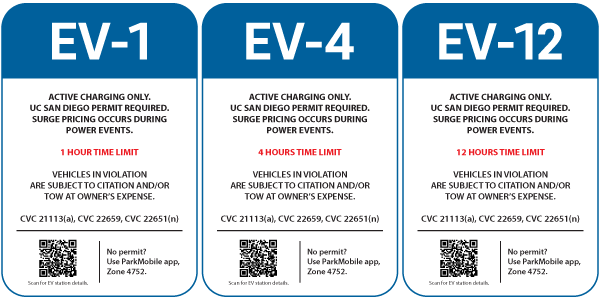 EV-1
EV-1 indicates that the parking space has a DC Fast Charger (DCFC) and a one-hour parking limit.
Our DCFCs range from 50 kW to 125 kW, meaning that they typically add 75-185 miles of range in 30 minutes.
Chargers at EV-1 spaces have both CHAdeMO and CCS plugs, the non-proprietary standards for

DC Fast Charging

in the U.S. We will be adding Tesla adapters to our DCFC network in the near future.
There is no charging minimum for EV-1 spaces; however, a charging session must be initiated and vehicles should be moved when the charging session is complete.
EV-4
EV-4 indicates that the parking space has a Level 2 charger and a four-hour parking limit.
Chargers at EV-4 spaces operate at 6.6 kW of power, meaning that they typically add 21 miles of driving range per hour.
Chargers at EV-4 spaces use the J1772 plug, the non-proprietary standard for Level 2 charging in the U.S.
EV-4 spaces require a minimum 7 kWh charge. A charging session must be initiated.
Vehicles may remain after charging for a total of up to four hours of parking; however, we appreciate it when vehicles are moved sooner to free up space for other customers.
EV-12
EV-12 indicates that the parking space has a Level 2 charger that operates at a reduced power level, allowing for all-day parking (up to 12 hours). We have a few chargers that leverage circuit-sharing, operating at a continuous 3.3 kW; however, most EV-12 spaces leverage chargers with variable power between 1.2 kW and 6.6 kW.
These chargers will consider your planned time of departure and miles of range to be added and then optimize the delivery of electricity to meet both your needs and the needs of nearby vehicles while limiting demand on the electrical grid. This leading-edge technology was incubated at UC San Diego and is a significant part of how we can manage infrastructure costs and optimize the use of renewable energy as the U.S. transitions from fossil fuels to electric vehicles.
Chargers at EV-12 spaces use the J1772 plug, the non-proprietary standard for Level 2 charging in the U.S.
EV-12 spaces require a minimum 10 kWh charge.
Interested in discounted EV charging?
Join the Triton Chargers to receive the best on-campus charging rates. Membership is open to current UC San Diego faculty, staff and students.
EV Charging Rates 7/29/23 through 6/30/24
| | Level 2 Weekday | Level 2 Weekend | DC Fast Charger Weekday | DC Fast Charger Weekend |
| --- | --- | --- | --- | --- |
| Triton Chargers Club  | $.30 | $.30 | $.35 | $.35 |
| Public charging | $.35 | $.30 | $.40 | $.35 |
During Flex Alerts, prices will double to reduce grid impacts; please charge before or after the Flex Alert. To receive email or text announcements about Flex Alerts, subscribe to updates from CAISO, the California Independent System Operator that coordinates the CA electrical grid.
During special promotional events, rates may be reduced by 50%. Examples included Clean Air Day, new charging plaza opening celebrations, etc. To receive alerts about special promotions subscribe to First to Know from Transportation Services.
To enroll, you will need to have accounts with our two participating EV charging vendors, ChargePoint and PowerFlex. You will also need to enroll with ChargePoint Connections to affiliate your ChargePoint account with the UC San Diego EV Charging Club.
Complete the EV Charging Club enrollment form.
Brands of Chargers
ChargePoint 
250 Level 2 ChargePoint ports located around campus; find a charging station. SDG&E's Time of Use Rate applies at La Jolla Del Sol and MARFAC.
13 DC fast charging stations located at:

P703 and P707
1st floor Athena Parking Structure
1st floor Nuevo West Parking Structure
3rd floor South Parking Structure

Download the ChargePoint app
PowerFlex
72 Level 2 charging stations around campus (affiliated with Tesla) located at:

3rd floor Gilman Parking Structure
6th floor Athena Parking Structure (2 Tesla only plugs)
5th floor Pangea Parking Structure
2nd floor Hopkins Parking Structure

All PowerFlex chargers are designated EV-12.
Download the EVgo App
SemaConnect – 8 Level 2 charging stations located at One Miramar Street
EnelX – 7 Level 2 charging stations located at the Mesa Nueva Parking Structure
Tesla
UC San Diego's charging networks use non-proprietary, J1772, CCS and CHAdeMO plugs. Tesla uses a proprietary plug, recently rebranded as NACS. Tesla drivers are invited to use the UC San Diego networks by connecting the J1772 adapter that came with their vehicle and are encouraged to use the ChargePoint app or a neutral application like PlugShare to view charging options outside of Tesla's network of proprietary chargers.
Questions?
For more information about: