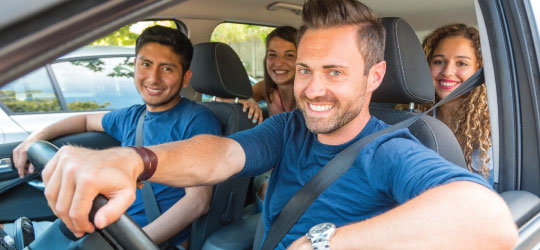 Carpools and Vanpools
Faculty, staff and students who live off campus, commute to UC San Diego and are committed to carpooling daily can form a carpool or vanpool and receive incentives.
Carpools consist of 2‒4 eligible members.
Eligible participants include A, B and S permit holders (SR, D, M, V, NW and OPH permit holders are ineligible for carpool access).
Vanpools are large carpools consisting of five or more eligible members that use a third-party leased vehicle. The SANDAG Vanpool Program provides a convenient, cost-effective way for groups of five or more people to get to work in and around the San Diego region.
Incentives
Save time: Vehicles with two or more passengers can use high occupancy vehicle (HOV) lanes.
Save money: Share the cost of an annual permit and gas.
Get priority parking:

3+ Person Reserved

Receive a 3-Person Carpool access sticker when you have 3 or more registered carpool members.
Carpool space access requires that 3+ members carpool on the day of use.

2+ Person Reserved

Receive a 2-Person Carpool access sticker for use in 7–11 a.m. limited reserved S parking spaces near ramps in Osler and Hopkins Parking Structures.
Carpool space access requires that 2+ members carpool on the day of use.

Emergency rides home: Triton Commuter Club and SANDAG provide carpoolers and vanpoolers emergency ride home support in case of illness, unscheduled overtime or family emergencies.
Find or Form a Carpool or Vanpool
Use UC San Diego's Triton Commuter Club or personal networking to find other UC San Diego faculty, staff and students who want to carpool.
Register a Carpool or Vanpool
Once you have selected your carpool members, register your carpool to park in Carpool Reserved spaces when two or more people are present.
Carpools can choose a primary driver who purchases a single valid multiyear permit, or share driving responsibility and purchase daily parking through ParkMobile.
Email iride@ucsd.edu with "Register New Carpool" in the subject line.
List your carpool or vanpool riders full names and UC San Diego ID#. (Must be a UC San Diego affiliates to qualify).
Include screenshots of the current quarter work or class schedules for undergraduate participants.
Our customer service team will update all carpool members to purchase carpool parking from the ParkMobile app.
Use the Triton Commuter Club to log your alternate carpool trips and earn discount incentive parking or enter to win monthly and quarterly grand prizes.
Questions?