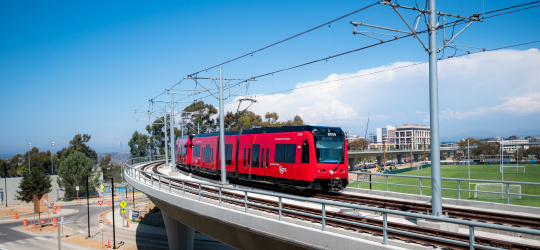 Public Transit at UC San Diego
Several mass transit routes serve the campus and surrounding area. UC San Diego offers different programs that provide discounted transit access for faculty, staff and students.
Transit Passes
Transit products for the San Diego Metropolitan Transit System (MTS) and North County Transit District (NCTD) are delivered through the PRONTO regional fare system.
In addition to the daily, weekly and monthly products available directly through PRONTO, these products are available exclusively to certain segments of the UC San Diego community.
U-Pass – included with student fees for matriculated students during the fall, winter and spring academic quarters
Summer Pass – $

67.52

for eligible students
FaSt Pass – reduced-cost monthly product for payroll deduction eligible faculty and staff available through Transportation Services only
All other members of the university community should purchase transit products directly through PRONTO.
Link Your PRONTO Account
All members of the UC San Diego community should associate their @ucsd.edu email addresses to their PRONTO accounts AND associate their account with a UC San Diego program so thatTransportation Services can assist with purchases or account issues.
Download the PRONTO app and create your PRONTO account.
Search 'PRONTO San Diego' in the Apple or Google Play stores to download the PRONTO mobile app.
All UC San Diego transit riders must create a PRONTO account using their @ucsd.edu email address.
Look under the "Use" tab and select the option to "Create Virtual Card"

Your mobile app will hold your transit pass.
If you have a PRONTO card and wish to use it instead of the app, do not create a virtual card; instead, use the "Link Existing Card" tab to add the card to your PRONTO account.

Open your PRONTO mobile app and link the virtual card through the "Student and Employee Program" button.
Select the UCSD program you belong to:

Faculty/Staff/Qualified Affiliate choose UCSD Employer
Undergrad/Graduate choose UCSD U-Pass
Serving La Jolla campus:
Serving Hillcrest Medical Center
 Incentives
Emergency rides home: Register in advance for Guaranteed Ride Home, a SANDAG program that provides rides in case of illness, unscheduled overtime, or family emergencies. Registered users, dial 511 when you need a ride.
Drive shared vehicles with Zipcar (when you meet eligibility requirements).
Rates
Coaster Club registration is free. Eligible members are responsible for paying monthly 30-Day Coaster pass fees, which are subject to change:
2 zones: $161
3 zones: $182
Senior/Disabled: $58*
*Senior citizens (age 65+ or born on or before 9/1/1959) must provide a state-issued driver's license, government-issued photo identification card, or an Senior/Disabled/Medicare Compass Card with integral photo identification when purchasing a Senior Pass, or boarding a transit vehicle with a Senior Pass.
Transportation Services:
Does not qualify or issue Compass Cards for Persons with Disabilities or Medicare (see MTS

 

Senior/Disabled/Medicare Discounted Fares)
Is authorized to sell and add Senior/Disabled/Medicare fares to Compass Cards of eligible persons qualified as UCSD eligible affiliates.
How to Purchase
Bring:

Valid UC San Diego ID
Payment method

At signup, you'll receive your Compass Card.
Using Compass Card
Learn how Compass Card works.
Your Compass Card renews automatically and confirms your fare when you tap it on the fare validator.
Tap at least once by the 14th of the usage month.
Cash transactions must be completed by the 15th of the preceding month. (Appointments are available.)
All Compass Cards have a physical expiration date. You are responsible for ensuring that your Compass Card is active. Most cards are valid for 5–10 years. If your Compass Card expires, it cannot access the electronically updated monthly fare. You can find your Compass Card expiration date by:

Checking the "REPLACE CARD BY" date that appears on the back of your card in the upper right corner
Visiting the Compass Card website and entering your card's 16-digit serial number that appears above the black bar in the lower right corner
Calling the Compass Service Center, (619) 595-5636
Note: If your Compass Card expires within the next 6 months and you want to avoid potential service disruption, you can visit Commute Solutions in the Gilman Parking Structure Office to get a free replacement card.

Report any problems immediately to Commute Solutions, (858) 534-7433.
Report changes, cancellations and lost or stolen Compass Cards immediately (see below).
Refunds are not available for Compass Cards. Lost or damaged cards incur a $15 replacement fee.
Automatic payroll deduction continue unless you submit a new Authorization/Cancellation Form by the 15th of the month before the change becomes effective to ensure adequate cancellation processing.
Compass Cards
Compass Cards sometimes expire on a different date than appears on the card. Check the expiration date of your physical Compass Card.