Electric Vehicle Charging Stations at UC San Diego
With funding from the Department of Energy's EV Project, UC San Diego has installed several public electric vehicle (EV) charging stations.
Parking at EV Charging Stations
A valid UC San Diego A, B, S, D (on a trial basis) or V parking permit is required to park in campus or medical center EV charging station parking spaces.
A vehicle that is parked in an "EV Charging Only" space but is not actively charging may be cited and/or towed. (CVC Section 22511)
Vehicles parked in "EV Charging Only" spaces must be actively charging. Parked vehicles that exceed the posted time limit and/or are not actively charging will be cited (CVC 21113A).

Level II chargers have a 4-hour maximum limit of active charging.
DC Fast Chargers have a 1-hour limit active charging.
Types of Chargers
ChargePoint
182 Level II ports located around campus; find a charging station

Rate: $0.15/kWh
SDG&E's Time of Use Rate at La Jolla Del Sol and MARFAC

1 DC Fast Charger at Osler Parking Structure's 3rd Floor, Southwest corner – Free charging during April only in celebration of Earth Month
Android and Apple Download
EVgo DC fast chargers
3 DC Fast Chargers in parking lot P703

Non-member rate: $0.20/kWh
Member rate: $0.15/kWh

If you have questions about subscribing, operating chargers or your EVgo account, call 1-855-509-5581.
Android and Apple Download
Charging Station Locations
See a map of our EV charging stations or find us on the PlugShare app.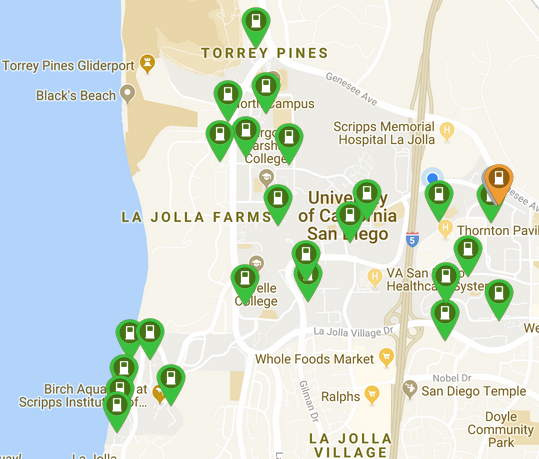 Questions?
For more information about:
EV charging stations at UC San Diego, contact DriveElectric@ucsd.edu.
EV charger parking, contact Parking Enforcement,

(858) 534-1973

.