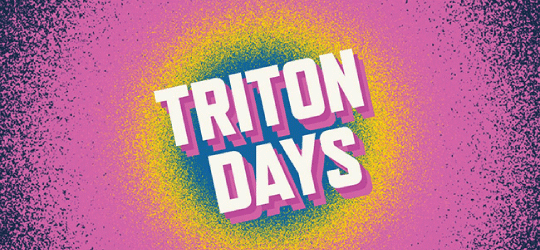 A Transportation Guide for New Tritons
On behalf of Transportation Services, we welcome you to UC San Diego! We are dedicated to helping you get around campus and connecting you with the surrounding community.
In this guide, you will find information on the various services and programs that we offer students. If you have any questions, please refer to our website or reach out to us at parking@ucsd.edu.
Getting Around Campus and Beyond
Public Transit
Through the Triton U-Pass program, UC San Diego students receive unlimited access to the San Diego region public transit systems, including the San Diego Metropolitan Transit System (MTS) and the North County Transit District (NCTD). Learn more about the U-Pass program and commuting by public transit.
On-Campus Shuttles
Students can use Triton Transit shuttles, which provide free transportation on campus and to select off-campus locations. View a live map of the shuttle routes and stops on the Live Shuttle Tracker or download the TransLoc App for real-time shuttle location information.
Bikes and Scooters
Whether you ride a bike, skateboard or unicycle, UC San Diego has a network of accessible paths that make micromobility options a great way to get around campus. Read more about our campus micromobility initiatives.
Thieves know that there are lots of bikes and scooters on campus. We provide discounted locks and enhanced security enclosures, but theft still happens. We hope you'll consider leaving your personal bike or scooter at home and using a shared vehicle instead.
Shared electric bikes and scooters are available across campus through Spin. Students can use the Spin app to conveniently locate, unlock and pay for a ride. Spin offers a discounted Unlock Pass for Tritons, which eliminates the unlock fee for each ride and lower-income students ride for as little as $0.10/minute. Learn more about Spin at UC San Diego.
Shared Spin bikes are temporarily unavailable and are expected to return in fall 2023.
Parking
Students with freshman and sophomore academic standing are restricted to purchasing only daily D parking permits. This means that campus residents should plan on using public transit for their mobility needs and that freshman and sophomore commuters will use campus park and ride lots if they choose to drive. If you have extenuating circumstances that require you to have a vehicle, you may apply for an exception. Learn more about parking for undergraduate students and parking permits.
---
Employment
Transportation Services offers several employment opportunities for students with initiative and great customer service skills. Beginning shuttle drivers earn $21.40/hour! Apply to be a shuttle driver or learn more about our other student employment opportunities.