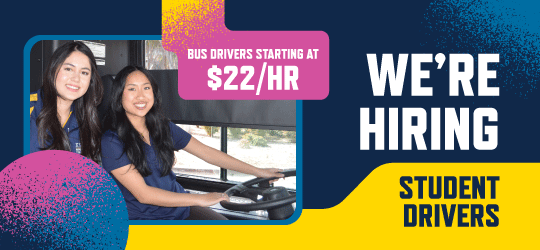 Triton Transit
Triton Transit operates fare-free on- and off-campus service, including four primary service lines:
Shuttles – Fixed-route service between campus shuttle stops
Mobility – Door-to-door service for individuals with limited mobility
On Demand – On-Demand service between existing Triton Transit stops during evening hours and academic breaks when fixed route service is reduced or suspended
Charters – Support for campus events, academic and student organization field trips and athletic travel
We operate electric carts, vans, small shuttle buses and full-sized transit buses fueled by renewable biogas (RNG).
For Triton Transit service updates, subscribe to First to Know.
Stay Informed about Important Service Information
Receive texts about detours, delays and service changes by subscribing to Transit Alerts through the university's Everbridge platform. Text "ucsdtransit" to 888777. Enrollment is opt-in only and users will need to confirm their subscription at the end of each month. All message and data rates may apply.
H – Hillcrest Express
HC – Health Campus Connector
R – Regents Express
SIO – Scripps Institution of Oceanography Shuttle
IL – Inside Loop
OL – Outside Loop
MS – Mesa South Shuttle
GC – Grocery Shuttle - Clairemont/Convoy
If you are a student, staff or faculty member with a disability, Triton Transit: Mobility can help you travel between ADA-compliant locations on the La Jolla campus via a wheelchair-accessible van or cart.
Operates weekdays 6 a.m. to 10 p.m. (last pick up) and weekends 10 a.m. to 6 p.m. (last pick up); excludes university holidays.
To arrange transportation for disabled visitors attending campus events, see Arranging Event Parking for Guests.
Triton Transit: On-Demand transports passengers between Triton Transit shuttle stops on the La Jolla campus when fixed-route service isn't running. Beginning Spring Quarter 2022, rides may be requested through the TransLoc app.
Triton Transit: On-Demand coordinates closely with the UC San Diego Police Community Service Officer program, (858) 534-9255, which can provide safety escorts on campus between sunset and sunrise.
Transportation Services is always looking for safe, responsible student drivers.
Driver benefits include being part of a great team, paid training, part-time flexible work hours that accommodates your class schedule, and the chance to provide a valuable service to the campus community. Triton Transit pays some of the best wages on campus.
Learn more and apply.
Questions or Comments?
Contact us at shuttles@ucsd.edu.