Pay with ParkMobile
ParkMobile is UC San Diego's app-based parking payment partner for campus visitors, UC San Diego Health patients and campus affiliates. Faculty, staff and students can learn more about daily commuter parking with ParkMobile on our Flexible Parking page.
Visitors and patients can park in any V space and use the visitor zone number corresponding to their location:
4752 UC San Diego campus
4768 La Jolla Medical Center
4791 Hillcrest Medical Center
Benefits
Easy to register and use.
Save time and money by extending your parking session from anywhere.
Choose from multiple payment options.
Save "Favorite" and recently used zones.
See suggested nearby zones.
Set customizable parking expiration reminders.
Add up to five license plate numbers on your account.
Share with campus visitors before they arrive.
Park at other locations throughout San Diego.
Access Your ParkMobile Account
Most people prefer to access ParkMobile using their mobile app; however, you can also manage your ParkMobile account or pay for parking on the ParkMobile website. Log into your ParkMobile account.
Get the ParkMobile App
How to Pay
Park in any campus or medical center parking lot. Visitors should enter the zone number posted near their V (Visitor) parking space: 4752 on campus, 4768 at the La Jolla Medical Center and 4791 at the Hillcrest Medical Center. Affiliates should enter the zone number that corresponds to their permit type to get the best available rate.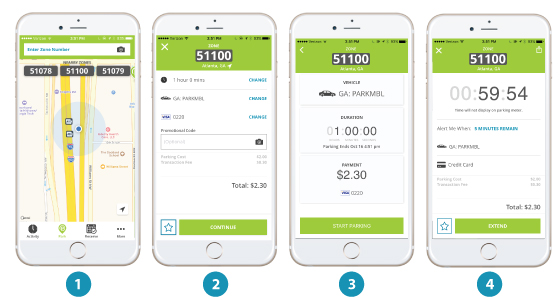 Once registered, enter the zone number located on stickers and signs on meters or choose from nearby zones shown.
Choose your parking duration (varies by location).
Confirm your information, including location, license plate, time and cost.
A ticker will be displayed counting down your time remaining. You can extend your session remotely.
Other Payment Options
We recommend using the ParkMobile app for the best virtual access experience. If you are unable to use the app, you can use this web option.
Security
In March 2021, ParkMobile alerted its individual customers and business partners, including UC San Diego, to a cybersecurity incident involving one of their computers. Limited customer data was exposed during the incident; read the latest on the ParkMobile website.
UC San Diego Transportation Services, in partnership with the campus Chief Information Security Officer, is reviewing the incident and ParkMobile's response. ParkMobile does not collect or store date of birth, social security numbers or driver's license numbers and reports that no payment card or transactional data was accessed. We will continue to monitor this incident as ParkMobile releases additional details about what happened.
Out of an abundance of caution, Transportation Services joins ParkMobile in encouraging ParkMobile customers to update their account passwords. We also recommend that customers use unique passwords for each online service they use and periodically update passwords for all services.