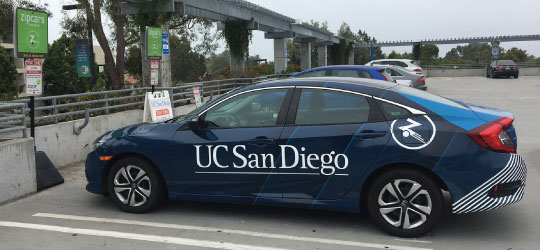 Car-Sharing
If you bike, hike, carpool or take public transportation, you can use campus Zipcars for short personal or business-related trips. See how Zipcar car-sharing works.
Zipcar at UC San Diego
You can pick up and return Zipcars on campus and at UC San Diego Health – Hillcrest.
During trips, you can park a Zipcar in A, B, S, metered or service yard spaces without a UC San Diego parking permit. (You must return the Zipcar to its original location on time to avoid penalties.)
Membership Fees and Costs
UC San Diego students, staff, faculty pay no application fee and a $15 membership fee for the first year. Alumni pay no application fee and a $45 membership fee for the first year
To apply online, you'll need your driver's license and credit card information. Once you're approved, you'll receive your Zipcard by mail. Members can reserve a car online or by phone, (866) 494-7227.
Zipcar rates vary by vehicle and include:
Gas
Insurance
Maintenance
Reserved parking space
180 miles per trip
Roadside assistance
24-hour customer service
Questions?