Waypoints
Lost? Find a Waypoint!
Having trouble finding your way around campus? Unsure where you are? With over 250 waypoints around UC San Diego, you can easily figure out where you are and where you need to go.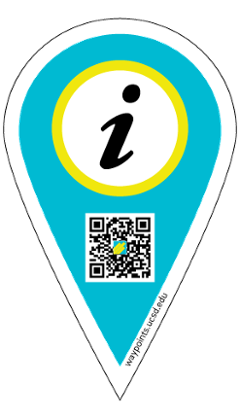 Look for these location markers on light posts around campus. Simply scan the QR code and your smartphone will open our campus map, centered on your current location, and provide information about nearby:
Buildings
Dining options
Campus services
Public art
Have suggestions?
If you have suggestions on where a waypoint should go or you have a favorite campus amenity that wasn't listed on nearby waypoints, email telltps@ucsd.edu with your suggestions!
No, using a waypoint is completely anonymous. We do not collect any personal information when you scan a waypoint. The only metric we track is the total number of times any specific waypoint has been scanned. That information supports program development and management.
Please email telltps@ucsd.edu with a photo and/or description of the damaged waypoint.
If you have trouble scanning a waypoint, there may be an issue with your mobile device. Make sure that:
You are connected to the internet. You can connect to our free guest Wi-Fi when you visit our campus.
Your camera application has the ability to scan QR codes. If not, there are several free QR scanner applications for download on the Google Play Store and the Apple App Store.
Your camera lens is clean. Smudges or foreign materials might obscure the lens.