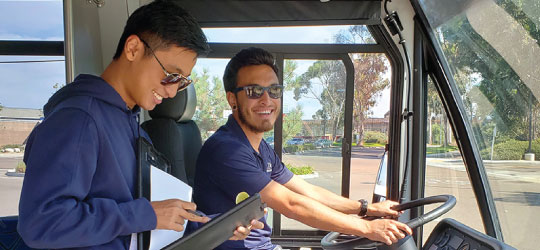 Triton Transit Student Jobs
Transportation Services is always looking for safe, responsible student drivers.
Driver benefits include being part of a great team, paid training, part-time flexible work hours that accommodates your class schedule, and the chance to provide a valuable service to the campus community.
While receiving paid training to become a Triton Transit Driver Level 2 (commercial vehicle operator) you will be able to work driving noncommercial vehicles, including carts, sedans and vans as a Triton Transit Driver Level 1. Cart Only (non-commercial) Driver positions are also available.
Students who do not have previous experience operating commercial vehicles begin as a Triton Transit Driver Level 1 and may progress to the Triton Transit Driver Level 2 position in as little as four weeks or as long as six months, depending on training progress.
Overview
For full details, see our postings on Handshake.
To be considered for the Triton Transit Driver Level 1 position, you must:
Be a registered UC San Diego student
Be available to work a minimum of 12 hours per week for a minimum of four academic quarters after initial hire
Possess a valid California class C (regular) driver's license
Be physically capable of driving a commercial vehicle
Participate in the Department of Transportation pull-notice program for moving violations and drug testing program
Be willing to work both weekday and weekend shifts, as necessary
Note: Applicants who have accidents and tickets on their driving record are handled on a case-by-case basis. Violations, such as DUI, evasion, hit and run, racing or other serious convictions disqualify you from being Triton Transit Driver.
To be considered for the Triton Transit Driver Level 2 position, you must:
Meet all requirements of employment as a Triton Transit Driver Level 1
Possess a valid class B (commercial) driver's license with a passenger endorsement and the air brakes restriction removed
Be available to work a minimum of 12 hours per week for three academic quarters after appointment as a Driver Level 2
Triton Transit Cart Only Drivers earn $16.90/hour. Triton Transit Drivers Level 1 earn $17.40/hour while training to earn their Commercial Driver License, and $21.40/hour when they are fully trained.
Continuing commercial drivers may be eligible for student leadership positions at $23.40/hour.
Triton Transit Drivers who meet attendance and performance standards may also be considered for the Triton Auxiliary Programs and Services scholarship program.
Significant contributions may be recognized as a part of Transportation Services' Employee Recognition Program.
Complete the application below and upload copies of these documents with it:
Your DMV driving record
Your current class schedule
To obtain your California DMV driving record, submit an online Driver Record Request or visit your local DMV office. (Records cost $5. You may schedule an appointment first.) Keep a copy for your records. If your driver's license was issued by a different state, check with that state's DMV.
Once we review your application for completeness and confirm your eligibility, a Triton Transit team member will contact you.
Training Attendance
Triton Transit Drivers must arrive on time at designated training locations for all training sessions. Failure to arrive by the start time will count as tardy. No grace periods are provided.
Failure to attend an entire training session without written documentation is cause for dismissal. Acceptable written documentation may allow candidates to restart with the next available training group, at departmental discretion. Triton Transit Drivers will be released from the training program upon their third tardy.
Portions of training may be conducted virtually and require access to a computer with a camera and microphone.
Training and Testing
Transportation Services trains and administers driving tests for all Triton Transit Driver candidates on campus. Average training time is approximately four weeks. Candidates complete written exams at the local DMV.
Triton Transit Driver Level 1 employees receive classroom instruction and behind-the-wheel training to prepare for the DMV commercial class B driving test and subsequent safe commercial driving. Employees are allowed three attempts to pass written exams and the commercial driving test. Failure to successfully complete training and testing for the Triton Transit Driver Level 2 position and secure a commercial driver's license within six months of hire will result in separation from employment.
In addition to completing required training, Triton Transit Driver Level 1 employees must:
Pay $82 to take the DMV written exams
Pass the DMV written exams to receive a commercial driving permit (The commercial driving permit allows the Triton Transit Driver Level 1 to drive buses during training when accompanied by a licensed bus operator.)
Pass the DMV driving exam to receive a commercial driving license (Only fully licensed bus drivers operate UC San Diego buses on routes.)
Triton Transit allows student employees to select their work schedules through a seniority bidding process. Students should not select shifts that conflict with their classes or healthy life habits. UC San Diego shuttles operate seven days a week during academic quarters. Shifts may begin as early as 5 a.m. or run as late as 1:30 a.m.
Most student driver shifts are three hours and drivers typically work a base schedule of four or five shifts per week. Shift trading is allowed as is picking up additional shifts to supplement drivers' regular schedules and earnings. All schedules must adhere to state and federal regulations as well as departmental policies, both of which are covered in training. This is the driver's responsibility.
Students may choose to work during academic breaks. Limited shifts may be available during the summer and academic breaks.
More Information
We appreciate your interest in becoming a UC San Diego student shuttle driver. If you have questions, contact tritontransit@ucsd.edu, (858) 534-7422, or hop on the Regents Shuttle and visit us at the East Campus Transportation Trailer at parking lot P703