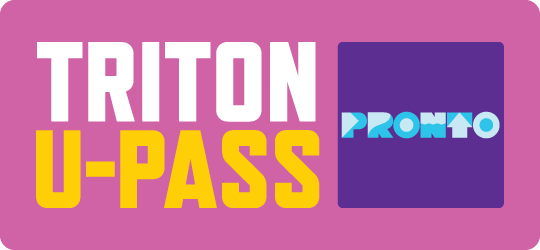 Triton U-Pass for Students
Triton U-Pass is a UC San Diego universal transit pass program  that provides students unlimited rides on all regional MTS and NCTD mass transit bus and trolley/light rail routes during fall, winter and spring academic quarters.
Triton U-Pass is NOT valid for use with these services:
NCTD: Coaster Train, FLEX and LIFT
MTS: Rural Routes (888, 891, 892 and 894), Rapid Express Routes (currently 270, 280 and 290) and MTS Access
Eligibility
All current undergraduate and graduate students who have paid quarterly registration fees are eligible for U-Pass.
UC San Diego Extension students and visiting scholars are not eligible for the program.
Learn how to use U-Pass: U-Pass Tutorial Video.
Pass Program. UC San Diego currently enrolled students are uploaded to the PRONTO portal. Each student is required to create their PRONTO account and link to the U-Pass program.
Under the "Manage" tab, select "Student and Employee Programs.:
Select "UCSD U-Pass."
You should receive a "Link Successful" message. If you receive a "Link Unsuccessful" message, you will need to verify that your email address matches what UC San has on file by sending an email to iride@ucsd.edu with the header "PRONTO Help."
Once you successfully link, the option to link will disappear.
Add your U-Pass on the date it become available.
Under the "Manage" tab, select "Add Passes."
Select "MTS."
The appropriate U-Pass product will appear.
Select "Add to Cart."
Select "Checkout" (no payment information needed for $0 product).
When to access your U-Pass:
Fall 2021 U-Pass will be available in-app for use on Sept. 16, 2021.
Winter 2022 will be available in-app for use on Dec. 27, 2021
Spring 2022 available in-app for use on March 17, 2022
Newly enrolled fee-paying students become eligible for a quarterly U-Pass; it may take two business days for enrollment status to be update in the system.
With PRONTO U-Pass, you are required to show your current UC San Diego student photo ID card if requested by transit officials.
PRONTO cards are available for students who do not have access to use the PRONTO U-Pass app with a smartphone. You are not allowed to have both PRONTO app pass and physical PRONTO card active at the same time; you must choose one fare media.
If you are unable to use the PRONTO mobile app, you can make an appointment to get a PRONTO card from Campus Curbside and use one of our mobile devices to create your PRONTO mobile account and link your physical PRONTO card. You will need access to your @ucsd.edu email at the time of account creation to complete this process.
Since the U-Pass fee referendum didn't cover summer session, U-Pass isn't available. To help keep students mobile during the summer, Transportation Services sells a discounted Summer Pass, available to undergraduate and graduate students continuing from Spring Quarter 2022 to Fall Quarter 2022 and students who are enrolled in Summer Session classes. Summer pass:
Allows unlimited access to regional MTS and NCTD bus and rail routes, including the Trolley, Sprinter and Rapid routes
Can be purchased online only
Costs $67.52 and is not transferable or refundable
Is valid through Sept. 20, 2022