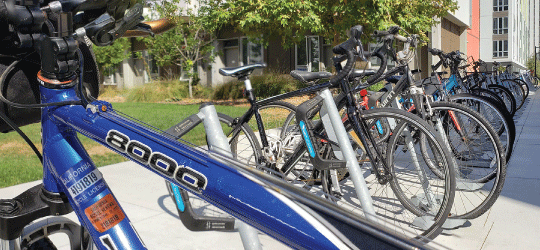 Register Your Ride
Transportation Service offers online personal micromobility device registration for students, faculty and staff.
UC San Diego is proud to partner with Bike Index, the world's most widely used and successful micromobility registration service with over 128,000 devices cataloged. Micromobility devices include bicycles, e-bikes, electric scooters, electric skateboards, and electric pedal-assisted (pedelec) bicycles.
Why You Should Register Your Micromobility Device
Police recover many lost and stolen micromobility devices each year. Bike Index helps us return your micromobility device to you. If your device is stolen, you have the serial number in your Bike Index account to file a police report. If you lose your device and we find it, we have the information to return it to you.
How to Register Your Micromobility Device Online
Find your serial number.

On most bicycles, the serial number is engraved on the bottom bracket. Simply turn your bike over and look between the pedals. Some bikes have multiple sets of numbers. Enter each set of numbers/letters.
Some skateboards, scooters and other non-bicycle mobility devices have serial numbers. If your device does not have one, leave the serial field blank. Bike Index recommends adding as many other details and pictures to the registration as possible.

Complete the Bike Index form below and include a picture of your device. Register skateboards, scooters and other non-bicycle mobility devices under the "personal mobility device" category.
You will receive an email from Bike Index asking you to confirm your device in their system. Confirm your device and create your Bike Index account.
Pick up your registration sticker at these locations by showing your Bike Index confirmation email. (Note: Stickers will be available Oct. 1, 2020.)

Campus Bike & Skate: Weekdays, 9 a.m. to 5 p.m.
Gilman Parking Structure Office: by appointment only; email parking@ucsd.edu to schedule an appointment
More pickup locations coming soon!

Complete the registration process by logging into your Bike Index account and linking your new sticker to your account
Affix the sticker to your device. You want people to know that your device is registered. Sticker placement:

A common decal location is on the top side of the top tube beneath the seat to avoid wear and weathering and to make removal difficult. This helps UC San Diego Police and potential thieves easily spot the registration sticker.
Do not affix the sticker to the removable seat post or the seat itself.
Place your sticker in plain view on skateboards, scooters and other non-bicycle mobility devices so that it can be easily identified by police and potential thieves.

Once you complete this step, your device will be fully registered. You can add more devices to your account with pictures of your device's distinguishing features.
Questions?
Contact Ian Happle.