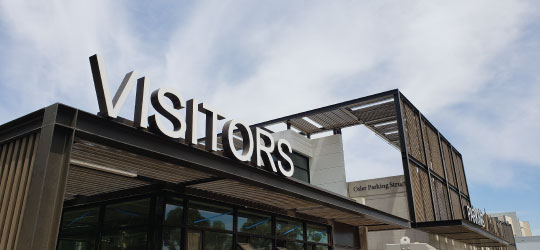 Visitor Parking
Visitors who need hourly or daily parking can purchase hourly parking at parking pay stations or on their mobile device.
Rates
Weekdays
Before 5 p.m. – $3/hour
After 5 p.m. – $1.50/hour
$30 daily maximum
Weekends
First hour free via app or pay station
$1.50/hour
$6 daily maximum
In response to COVID-19, we're providing reduced rates for visitor parking on the main campus. For details, visit our Return to Campus page.
Pay Stations
Pay stations sell Visitor (V) permits. Pay stations do not dispense change. Pay with any combination of the following:
A properly dated V pay station permit provides visitor parking in these spaces:
V: 24 hours daily
D: 24 hours daily

S

: 4 p.m. – 7:40 a.m. daily

B

: 4 p.m. – 7:40 a.m. daily

A

: 4 p.m. – 7:40 a.m. daily (not valid where posted "A permit required 24 hours a day, 7 days a week")
Note: You need  approved access for lots P001–P017 (SIO), P385 (Sanford Consortium) and P706 (Preuss School). See lots that require access permissions.