Pay by App Pilot Program

Transportation Services partnered with Parkmobile to provide a service that allows users to pay for and extend parking sessions using a smartphone or web app. This service includes geo-fencing for guidance and wayfinding as well as customizable expiration reminders so you can extend your session remotely by phone.
Benefits
Easy to register and use.
Save time and money by extending your parking session from anywhere.
Choose from multiple payment options.
Save "Favorite" and recently used zones.
See suggested nearby zones.
Set customizable parking expiration reminders.
Add up to five license plate numbers on your account.
Share with campus visitors before they arrive.
Park at other locations throughout San Diego.
Get the Parkmobile App
How to Pay by App
Park in any campus or medical center parking lot and look for the Parkmobile sign or sticker. If you don't see Parkmobile signage, use the app to locate the zone.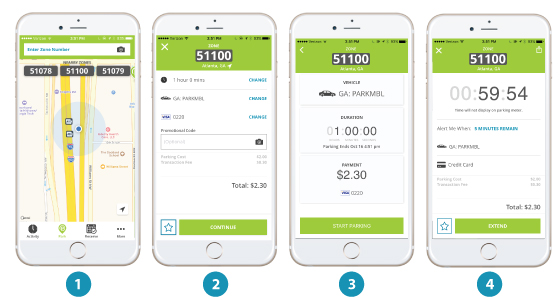 Once registered, enter the zone number located on stickers and signs on meters or choose from nearby zones shown.
Choose your parking duration (varies by location).
Confirm your information, including location, license plate, time and cost.
A ticker will be displayed counting down your time remaining. You can extend your session remotely.
Watch a video demonstration.
Other Payment Options
Non-smartphone users can pay with the web app or call the toll-free number on signs or stickers.
Provide your license plate number, parking zone number and payment information to start your parking session.
Choose to set up email or text message alerts 15 minutes before your parking session expires.