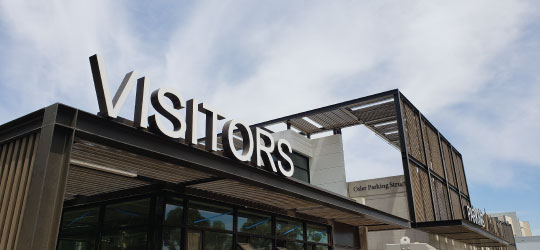 Visitor Parking
Visitors who need hourly or daily parking can purchase pay station permits. 
Rates
Weekdays
Before 5 p.m. – $3/hour
After 5 p.m. – $1.50/hour
$30 daily maximum
Weekends
First hour free via app or pay station
$1.50/hour
$6 daily maximum
Pay Stations
Pay stations sell Visitor (V) permits. Pay stations do not dispense change. Pay with any combination of the following:
Cash — $1, $5, $10 or $20 bills only
Visa, MasterCard or American Express
Pay by App — Pay for and extend parking sessions 
A properly dated V pay station permit provides visitor parking in these spaces:
V: 24 hours daily
D: 24 hours daily

S

: 4 p.m. – 7:40 a.m. daily

B

: 4 p.m. – 7:40 a.m. daily

A

: 4 p.m. – 7:40 a.m. daily (not valid where posted "A permit required 24 hours a day, 7 days a week")
Note: You need an access stamp or sticker for lots P001–P017. See Lots That Require an Access Sticker.