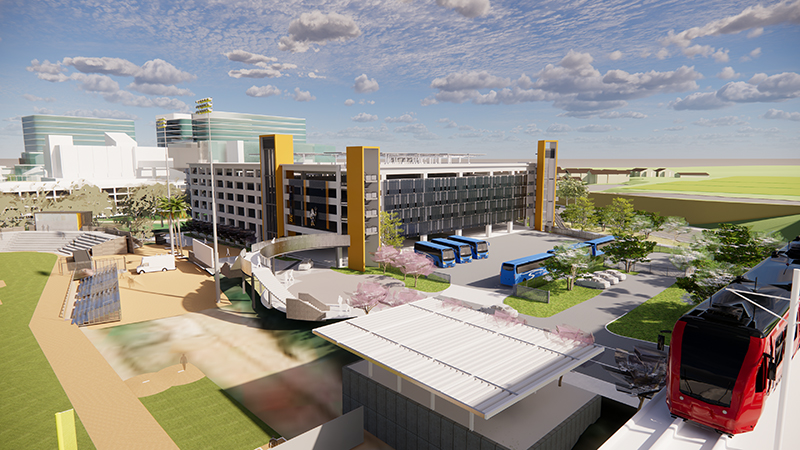 Concept rendering
Voigt Electric Mobility Hub
U.S. DOT + UC San Diego
UC San Diego is pursuing U.S Department of Transportation (DOT) support to help make the Voigt Electric Mobility Hub a reality. This innovative design-build project was within 30 days of groundbreaking when the SARS-CoV-2 pandemic rocked our nation and disrupted the UC San Diego capital program. The $25M requested will allow the university to proceed with this critical investment in green infrastructure and provide a carbon-free, last-mile connection to cultural and coastal resources, along with the top-rated hospital in San Diego, well-paying jobs, specialty clinics and educational opportunity at one of the top-ranked universities for social mobility.
Solving the Last-Mile Problem
The proposed Voigt Electric Mobility Hub will be sited on the UC San Diego Blue Line Trolley light rail extension, which provides a one-seat ride between the U.S.-Mexico border and the UC San Diego campus in the heart of San Diego's "Golden Triangle" innovation district for computing and biotech. Triton Transit operates eight fixed routes that are fare-free and open to the public, along with on-demand and paratransit services. This intermodal facility would extend the impact of the Blue Line, laying the foundation for a carbon-free last mile. By solving the last-mile problem, the project will help make transit viable for northbound travelers in the I-5 corridor and reduce particulate emissions in underserved, overburdened and disadvantaged communities of south San Diego.
Decarbonizing Transit
At the proposal's core is the Transit Operations Center, a 40-vehicle bus yard and barn with 150kw depot charging for 24 transit busses in a secure, weather-protected environment and a shared-use 450kw inverted pantograph charger to support campus, regional and private transit vehicles, along with the electric delivery vehicles that are part of the campus Carbon Neutral Last Mile initiative.
In addition to housing and charging the traditional transit vehicles, the design includes weather-protected charging and parking for the fleet of 22 electric carts that support microtransit and door-to-door ADA transit between more than 630 buildings on the 1,158 acre UC San Diego campus. This leading investment in electric transit infrastructure would pave the way for accelerated electrification of transit vehicles with all internal combustion transit vehicles planned for electrification by 2030.
Transit Training and Workforce Diversity
The design incorporates a Transit and Transportation Demand Management operations and training center beneath the bus barn. This facility would provide a permanent home for more than 200 student drivers, career drivers and administrative staff that keep UC San Diego visitors, patients, students, faculty and staff moving. The facility is the heart of the university's driver training and safety program. The program provides training and testing for approximately 60 new commercial drivers each year, with 69% of trainees coming from communities of color, more than double the industry average. Triton Transit is proud that its drivers have started their careers in the transit and transportation industry, holding positions in transit operations, consulting and transit administration.
The Transportation Demand Management unit oversees the campus intelligent transportation infrastructure, including parking sensors and adaptive traffic signals, bicycle, scooter and carsharing programs, carpool and vanpool programs, traffic calming and micromobility infrastructure and transit pass programs for the university's regional transit partners. Together with Triton Transit, this team is responsible for the campus's remarkably low 17% drive-alone rate.
Abundant, Intelligent EV Charging
The Voigt Electric Mobility Hub seeks to support commuters and campus residents with 1,150 parking stalls, of which a minimum of 400 will include Level 2 EV charging and leverage industry-leading adaptive load management technology. Electricity to support charging is 100% carbon-free and would be generated from the facility's photovoltaic array and imported under the university's renewable energy purchasing agreement.
Level 2 charging will support both publicly accessible EV carsharing and shared-use electric fleet vehicles available to university departments through a new self-operated carsharing program. The planned parking will support campus commuters and housing for more than 4,000 new residents, campus sporting events and performances at the nearby Epstein Family Amphitheatre. It will also provide a weekend parking option for southbound travelers on I-5, diverting private automobile trips to light rail and reducing impacts for historically disadvantaged communities in south San Diego.
Safer Connections for Active Transportation
Situated adjacent to the Voigt overcrossing of I-5, the only Class IV bicycle facility crossing I-5 between Sorrento Valley and I-8, plans for the Voigt Electric Mobility Hub add 1.25 miles of Class IV cycletrack, providing a protected bikeway that connects the facility to two light rail stations, three medical centers (UC San Diego, Scripps and VA San Diego), the Canyon View Aquatic Center and the Preuss School, UC San Diego's on-campus charter school serving high-potential students from underserved, overburdened and disadvantaged communities. The design incorporates electric bike and scooter sharing and charging, integrated digital pedestrian wayfinding and a 100-stall secure bicycle parking facility with electronic access and security cameras to provide the highest level of security for micromobility users and their devices.
Completing a Ladder of Opportunity
The Voigt Electric Mobility Hub, through both new connectivity and decarbonizing existing transportation options, can provide a final rung on the ladder of opportunity that is the UC San Diego Blue Line Trolley (Mid-Coast Trolley Extension). In doing so, it will ensure that the education, research, employment, cultural and coastal resources of one of the leading public universities are available to the entire region, regardless of age, income or physical ability.