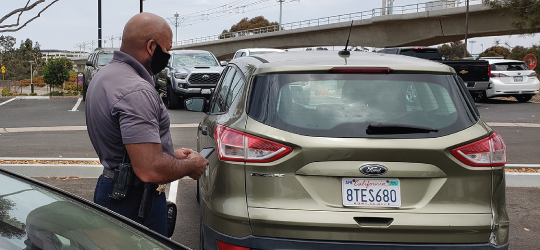 Permitless Parking
UC San Diego has transitioned to permitless parking. We're making life simpler, eliminating paper and plastic permit waste, and eliminating the wait for permits to arrive in the mail by using license plates as parking credentials. Rather than looking for plastic or print-at-home permit, parking staff check the license plates of parked vehicles against the list of plates that have parking rights.
We started using license plates as a primary parking credential for visitors in 2017, expanding to short-term student parking in 2018, all short-term parking and student parking in 2019, and new faculty and staff parking permit sales in 2020. In 2021, the last physical permits issued to faculty and staff expired and all university community members have transitioned to license plates as their primary parking credential.
Permitless parking is just one of the ways we're working to make the commuting experience simpler and more sustainable. If you have suggestions on other ways we can improve commuting at UC San Diego, let us know by emailing TellTPS@ucsd.edu.