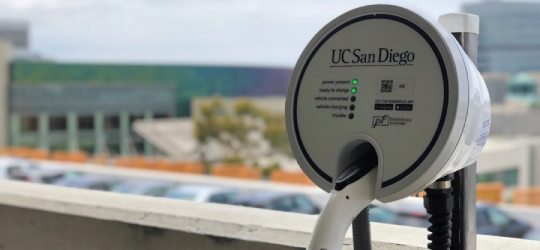 Research Partnerships
Research and Development
UC San Diego is building the largest and most diversified EV charging infrastructure of any university worldwide. We work with the private sector to develop significant cost-sharing agreements to support electric vehicle charging research development and demonstration opportunities.
Current projects include:
V2G and Power Port CEC funded project with Nuuve
6 Nissan and 2 Honda V2G funded project with EVgo and Nuuve
Four EVgo 50 kW PV-energy storage integrated DC fast chargers
10 Shell/AV Level II smart charger
Continuation of 24 KnGrid/RWE/Oxygen Initiative compliant with the interim ISO 15118 standard
Questions?
If you have questions about potential research partnerships, contact DriveElectric@ucsd.edu.