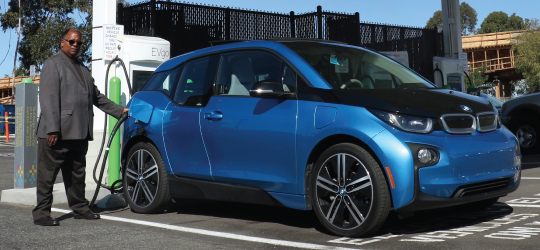 Vice Chancellor Gary C. Matthews charging his vehicle
Electric Vehicle Incentives
UC San Diego encourages the shift to electric vehicles and supports the University of California's Carbon Neutrality Initiative by attempting to provide our students, faculty, staff and retirees multiple options to own a new or used battery electric vehicle (BEV) or a Plug-in Hybrid Electric Vehicle (PHEV) at the lowest possible price. Buyers can choose from over 40 models to find the vehicle that best meets their budget and driving needs.
If you are interested in a new vehicle, several local dealerships have arranged discounted pricing with their manufacturers for UC San Diego students, faculty, staff and retirees. Offers vary so review them carefully.
You can research pricing for all new and used BEV and PHEV models through web-based searches by zip code. Sites include:
Exclusive UC San Diego Offers
Check dealer offers for eligibility requirements. Participating companies that do not have current offers include, Chevrolet, Ford, Kia/Hyundai/Mitsubishi and Tesla. Check with these dealers for special discounts.
BMW
Who's eligible? Faculty, staff and students
 Offer: BMW Group Corporate Sales incentives
---
Honda
Who's eligible? Faculty, staff and students
Offer: 2020 and 2021 Honda Clarity Plug-in Hybrid
---
Volkswagon
Who's eligible? Faculty, staff and students
Offer: offer
To receive incentive pricing, you must bring a copy of the monthly offer flyer and your current UC San Diego ID card.
100% Battery Electric Vehicles (BEV)
Plug-in Hybrid Electric Vehicles
HOV Lane Access
State and Federal Electric Vehicle Incentives
UC San Diego and its research partners will invite anyone who leases or purchases one of these vehicles to participate in an electric vehicle user study. Study participants will share information on their electric vehicle driving and charging experiences. This is an opt-in study and there is no obligation to participate.
INVENT Project
The Intelligent Electric Vehicle Integration (INVENT) Large Scale Seamless Vehicle Grid Integration Project is a collaboration between UC San Diego's Center for Energy Research and San Diego-based technology company, Nuvve Corp. The purpose of this project is to demonstrate the real-world benefits of advanced Vehicle-Grid Integration (VGI) applications for electric vehicles (EVs), including smart charging and bi-directional sharing of EV batteries when not needed (e.g., when parked and sufficiently charged) in exchange for benefits or savings.
The project will build on the university's existing electric vehicle charging infrastructure network and install an additional 50+ charging stations on and around campus through 2020. The project will also recruit a diverse array of drivers from the campus community to participate and leverage the new charging infrastructure. Participants will receive a dedicated parking space and free vehicle charging at UC San Diego. See the INVENT flyer (PDF).
If you currently drive an electric vehicle and would like to participate in this innovative research project, please complete the INVENT Driver Recruitment Survey.
More Information
If you have questions about these incentives or EV charging on campus, contact DriveElectric@ucsd.edu.