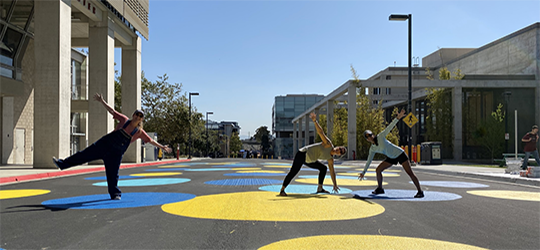 Rupertus Lane painted
University Center Mobility and Placemaking
Background
Phased implementation of the University Center Tactical Mobility and Placemaking Plan began in fall 2021 with the Art Intervention @ The Lawn and continued in 2022 with major circulation improvements during spring break and the Rupertus Lane Paint Party at the beginning of Spring Quarter. The plan is based on student ideas generated from the 2020 Urban Design Challenge where student teams presented ideas for creating a pedestrian- and micromobility-oriented University Center using relatively low-cost and flexible interventions. Many of the student proposals were inspired by Portland's Safe Streets Initiatives.
Students overwhelmingly advocated for closing Rupertus Lane to vehicles, painting the street vibrant colors and providing other placemaking elements, like tables and chairs. The University Center Tactical Mobility and Placemaking Plan implements these ideas and creates a more welcoming and safe University Center in a relatively quick and cost-effective manner. Lessons learned from this tactical plan will inform the design of future, permanent area public realm improvements.
Ride-Hailing and Tour Bus Zones
To support mobility while reducing private vehicle traffic in University Center, we built a new turnaround on Russell Lane for ride-hailing (Lyft, Uber, taxi) and passenger loading activities. We relocated buses for Triton Tours and other group visits to Matthews Lane where we added a new pedestrian plaza with an interactive information kiosk and safety improvements. Installation of another interactive kiosk near the ride-hailing zone is planned for summer 2022.
Circulation Improvements and Festival Street
Rupertus Lane will be closed to all vehicles, creating a safe connection for pedestrians and micromobility travelers between the UC San Diego Central Campus trolley station, Library Walk and Ridge Walk by extension. UC San Diego students and staff painted the street with UC San Diego colors to display Triton pride and create a safe and vibrant "Festival Street" for riding, relaxing and gathering for events!
Click image to view the PDF.
Lyman Lane, Russell Lane and Rupertus Lane were repaved to create a smoother and safer surface for travelers and then restriped based on the new circulation plan.
Bollards or chains in various locations will prevent vehicle access. Service, commercial and other authorized vehicle access will be allowed on Russell Lane, Lyman Lane, P405 and in two locations off Myers Drive.
Access and parking allocations at P412 remain the same.
The Gilman Parking Structure is the primary visitor parking area serving University Center and accessible (ADA) parking has been concentrated on Myers Drive and in the Gilman Parking Structure.
Emergency Vehicle access remains the same.
---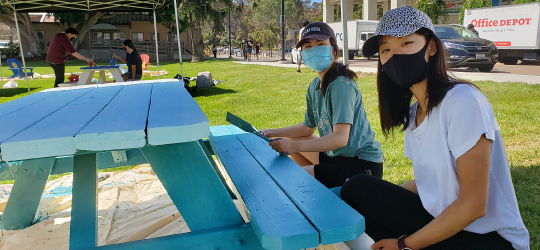 Art Intervention @ The Lawn
In fall 2021, Transportation Services and Campus Planning sponsored the Art Intervention @ The Lawn project to activate an underutilized space in the University Center and to give students the opportunity to display their creativity, talent and Triton pride.
Students signed up to paint picnic tables or Adirondack chairs using their own original designs during a week-long "Paint Party." Participants had fun and the colorful new furniture looks awesome! It's a great place to relax, study or enjoy a bite to eat from your favorite nearby eatery.
We share our special thanks to all the students who participated and made this event successful!