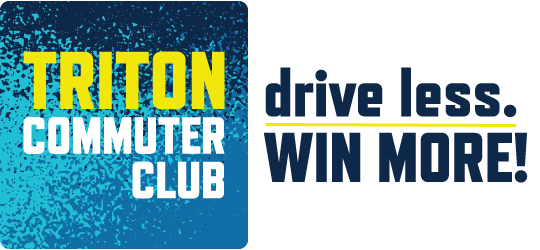 Triton Commuter Club
Triton Commuter Club
The Triton Commuter Club recognizes and rewards your actions to reduce the traffic, parking and environmental impacts of driving alone. Whether you're coming to campus daily, learning and working from home, choosing lower-impact modes every day or mixing up your commute, you can reduce your impact and earn rewards.
The Triton Commuter Club Portal is built on the RideAmigos platform and provides trip-planning, ride-matching, and trip logging to earn prizes and incentives. Club participants must actively log their trips by the last day of each month to qualify for incentives. This program and the portal are currently in a public beta and we will continue to fine-tune both through Summer Quarter 2021.
Questions?
Contact a parking office.