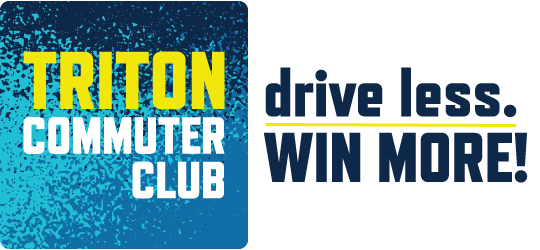 Triton Commuter Club
The Triton Commuter Club recognizes and rewards your actions to reduce the traffic, parking and environmental impacts of driving alone.
We're all about choices. Whether you're coming to campus daily, learning and working from home, choosing lower-impact modes every day or mixing up your commute, you can reduce your impact and earn rewards as a Triton Commuter Club member.
Be the next Winner!
Congratulations to Sigal, who won Transportation Services' last electric bike giveaway in partnership with San Diego Fly Rides. When you join the Triton Commuter Club and participate in our quarterly incentive drawing, you could be our next winner.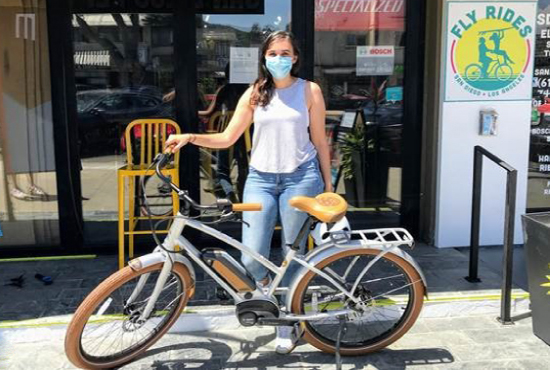 And, congratulations to Triton Commuter Club Clean Air Day Challenge participants Kirk Wang, Patrick Yorkgitis, Ben Tsuda, Yan Liang, Robert Magallanes, Robert Cooper, Richard Brackbill, April Aralar, Yikyung Yu, and Justine Paradis; they each won a UC San Diego Bookstore gift certificate!

Your commute is your choice and choice is your reward. Choose entries toward monthly/quarterly prize drawings or receive a 50% discount on a 10-Day parking permit. You can change your reward option each month and update your choice through the last day of the month. Currently, undergraduate students are eligible for monthly and quarterly drawings only.
Monthly and Quarterly Drawings: Each day that you choose a lower impact travel mode, work or learn remotely, or have an "extra" day off associated with a compressed work week, you earn another entry toward the monthly drawing AND the quarterly grand prize drawing. We will announce 20 prizewinners at the end of each month and one grand prizewinner at the end of each calendar quarter. The less you drive alone, the more chances you have to win!
Half-Price 10-Day Permit: One discount incentive permit will be available for purchase online by the 5th of each month. Unlike our old quarterly incentive permit that expired at quarter end, you can earn a new discounted 10-Day permit each month that will remain valid until the fiscal year end on June 30.
Special Challenge Days: Occasionally, we'll send an email encouraging you to make specific travel choices on special challenge days, like Clean Air Day, MTS Free Ride Day, Bike to Work Day or Earth Day. When you participate in the challenge and log your trips that day, you can earn special incentives.
Bonus Drawing for Undergraduate Remote Learners: We're delighted to share that Associated Students is sponsoring a special, bonus drawing just for those who are engaged in remote learning. Whether you're learning remotely from your residence hall, out of state or out of the country, you'll be eligible to win one of 10 $50 gift certificates for online purchases at the UC San Diego Bookstore.
All new Triton Commuter Club participants must register online. Members of previous commute programs and clubs (e.g. Pedal Club, Coaster Club, etc.) must register as new participants.
Purchasing an annual or consecutive-day parking permit will cancel your Triton Commuter Club membership. When your permit expires or you cancel it, you can re-register for Triton Commuter Club membership.
Participating Triton Commuter Club members must complete the trip-logging survey each month to earn incentives. If you forget to complete the survey one month, don't worry. While you will not earn incentives for that month, your membership continues and you'll receive a new survey and chance to earn the following month.
Undergraduate participants:

Are not eligible for discount parking
Automatically earn monthly and quarterly drawing entries for their low-impact commute and remote learning days

To be eligible for the quarterly grand prize drawing, you must be a current Triton Commuter Club member at the end of the quarter.
Grand prizes, or the combined value of multiple prizes, may be taxable.
Step 1
Go to the Transportation Services Customer Portal.
Click on "Get Permits."
Login to UC San Diego Single Sign-On.

Staff use Business Systems.
Medical Center staff may use Active Directory.
Students use Single Sign-On.

Verify/Update your home mailing address. We don't plan to mail anything but appreciate your confirming your local address to inform our carbon emissions modeling.
Select the "Join Triton Commuter Club $0."
Select or add your personal vehicle information and license plate. Unfortunately, collecting this is a system limitation. It could save you time if you drive in the future and it helps with carbon emissions modeling. If you do not own a vehicle, enter your UC San Diego student or staff ID number instead of the license plate number and make up the vehicle specifics.
Select "Pay Now" to complete the transaction. You won't be charged anything unless you've also selected a paid product in the same transaction.
Step 2
Watch your email. We'll send new members a link to the Triton Commuter Club survey within 24-48 hours and on the first day of every month thereafter.
Step 3
Complete the Triton Commuter Club survey by the last day of each month. If you forget to complete those last couple days, don't worry. We count all the trips you logged from surveys that were saved but not submitted.
If you selected the "Half Price 10-Day Incentive Permit" as your reward for the month AND you report 15 working or learning days without driving alone, your discounted permit will be available for purchase by the 5th of the following month and will remain available through the end of the month. When purchased, your permit will be delivered immediately as a code for the Parkmobile app. Once you enter the code in the app, you'll have your 10 days of prepaid parking to use anytime before July 1.
If you do not use an iOS or Android smartphone, you can redeem your parking code and initiate parking sessions on the Parkmobile website.
To claim your half price 10-day permit:
Go to online sales.
Click on "Get Permits."
Login to UC San Diego Single Sign-On.

Staff use Business Systems.
Medical Center staff may use Active Directory.
Graduate students use Single Sign-On.

Verify/Update your home mailing address. Your purchase will be fulfilled electronically but your address confirmation helps improve our carbon emissions modeling and ensures that any official communications we may need to send (e.g., parking citation notices) reach you in a timely manner.
Select the $30.00 "A" or $25.00 "B" 10-Day permit.
Select "Pay Now" to complete the transaction.
Your receipt will include the zone number and promo code for use in the Parkmobile app or on the Parkmobile website.
Questions?
Contact a parking office.