Campus Shuttles
Students, faculty, and staff can ride free shuttles that serve campus, medical centers and key points off campus. Be prepared to show your campus ID to the driver upon request.
Live Shuttle Tracking and Arrivals
On the Live Bus Map, click the route to track one or more routes; hover over vehicles and stops to see more information. With Arrival Times, you can select a route and stop to view estimated arrivals.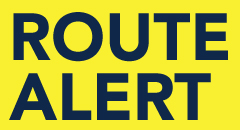 Alerts and Service Changes
Shuttle stop changes effective April 1:

Coaster Shuttle:

Thornton Pavilion stop moves to Koman Outpatient Pavilion
Rupertus Ln. stop moves to Gilman Dr./Mandeville Ln.

Mesa Nueve Shuttle will stop at Gilman Transit Center before and after Mandeville Center

Look for the yellow ROUTE ALERT signs at shuttle stops.
Sign up for text alerts (Standard carrier fees may apply.)
Routes
Operate weekdays year-round (excluding university holidays):
Operate during academic quarters (with reduced or suspended service during academic breaks and summer sessions):
For Students Only
Holiday Airport Shuttle provides limited service between campus and San Diego International Airport during academic breaks
Passenger Safety
Only designated service animals as specified by the Americans With Disabilities Act or those contained within a closed pet carrier are allowed on buses.
Pet carriers and any other carry-on items may never block aisles or exits.
Surf boards and bicycles are not allowed inside buses.
Thanks for your cooperation.
Questions or Comments?
Contact us at shuttles@ucsd.edu.