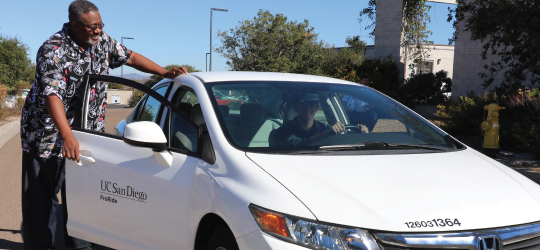 UC San Diego ProRide for Faculty
UC San Diego ProRide is a pilot program that provides a free, sustainable transportation option to improve faculty mobility on campus. Our fleet of electric SMART cars and wheelchair-accessible vans will take you to any of the pickup and drop-off locations in our service area.
The ProRide pilot program will be available from 7 a.m. – 4 p.m. weekdays through Sept. 21, excluding university holidays and academic breaks.
If you are a student, staff or faculty member with a disability, Triton Mobility Services can help you travel between ADA-compliant locations on campus.
On-Demand Service
Like other ride services, you can only request real-time ProRide pickups. If you call to request a ride, our dispatchers cannot schedule pickups in advance.
All pickup requests enter a real-time queue. Currently, the system cannot provide wait times. When you submit your pickup request, you can view your ride status in the system. The driver will take you to your destination and proceed to the next request in the queue. To help ensure timely service for other passengers, drivers cannot wait for you at a drop-off location. If needed, you must request a new ride to return or go to another location.
Note: Since this service is new, we suggest that you request a pickup 15-20 minutes before your desired arrival time. You may experience longer wait times during peak hours, 10 a.m. to 2 p.m. We appreciate your patience as we refine our service.
Faculty who have or are eligible for a current A parking permit can participate in the ProRide pilot program.
Due to vehicle size, ProRide cannot offer door-to-door service to all campus buildings. Select the closest pickup/drop-off location. Locations served are listed by these prefixes:
Campus Loop stops


CW Loop – Clockwise Loop stop
CCW Loop – Counterclockwise Loop stop

HS – UC San Diego Health – La Jolla
PS – Parking Structure

NEW!

Scripps Institution of Oceanography

P010 Martin Johnson House
P014 Keck Center
P007 Hubbs Hall
P002 Director's Office
See a full list of locations (PDF).
ProRide does not currently serve these areas:
Mesa Housing
UC San Diego Health ‒ Hillcrest
Online or with the App
Mobile device: Search for "Dispatchur" in the App Store (Apple IOS) or Google Play (Android) and download the free app to your Smartphone or tablet.
Computer: Using your Internet browser, go to app.dispatchur.com.
Sign in using your UC San Diego email and ProRide password. (The first time you sign in, you will need to create your account password.)
From the Home tab, choose your pickup and drop-off locations and click the "Request now" button.
The next screen will display your selected locations and the status of your request.
Go to the Notifications tab to view your driver's progress. You will see when your driver: accepts your request and is en route with a real-time map to track the location.
The driver will send a notification upon arrival and will be waiting in a SMART car marked ProRide or a UC San Diego van, depending on your location. Be prepared to show the driver your UC San Diego ID upon request. To help ensure timely service for other passengers, your driver will wait a maximum of five minutes before heading to the next pickup. If the driver must leave without you, a missed ride will be recorded on your account. You will need to request the ride again and you will be returned to the pickup queue.
The driver will take you to your destination and proceed to the next pickup.
By Phone
If you don't have a Smartphone or Internet access, you can call (858) 534-4816 to request a pickup. The dispatcher will ask for your employee ID number to verify your eligibility. Note:
Your pickup may be delayed because a dispatcher must manually enter your pickup request. 
You will not be able to track your driver's progress or receive notification when your driver arrives.
You can cancel a ride request in the app or online using the "Cancel" button if the request is still in the queue. If a driver has accepted your request or is en route, call (858) 534-4816 and the dispatcher will notify your driver.
Cancelling your request by app or phone ensures that a missed ride is not recorded on your account.
Questions?
Contact us at (858) 534-4816 or proride@ucsd.edu.