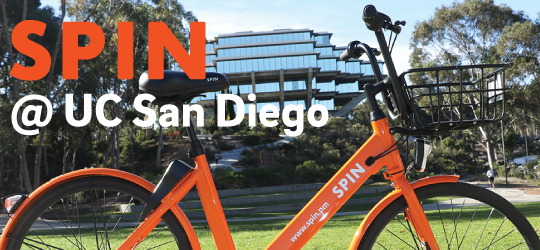 UC San Diego Bikeshare Program
UC San Diego is excited to launch a new, campus bikeshare program with Spin, one of North America's leading stationless bikeshare companies. The preview begins Dec. 8, 2017 with 50 orange Spin bikes in key campus locations. An additional 250 bicycles will be available on campus during the pilot as of the mid-January kick-off event.
During the pilot, we will track bike use to determine high-concentration and preferred parking areas to identify which campus areas may benefit most from this service. Campus demand and use patterns will determine fleet and program area expansion opportunities.
Service Area
Bikes are meant for use on campus by students, faculty and staff. If you take a bike off campus, you should return it to campus in a timely manner the same day.
Spin will retrieve all locked bicycles that are riden off campus. Between 9 a.m. and 6 p.m. seven days a week. Spin may be requested to pick up and remove any bicycle(s) from campus and/or other San Diego locations.
Pricing
You must create a Spin account using your @ucsd.edu email address to receive these discounts.
New User Promotion: Spin will provide five free rides to all new registered campus users.
UC San Diego users will receive these discount rates:

$0.50 per ride under 30 minutes; $1 per each additional 30 minutes
$14 per month for unlimited rides under 30 minutes
$49 per year for unlimited rides under 30 minutes
How to Use Spin Bikeshare
Download the Spin app.
Create an account using your @ucsd.edu email address.
Unlock the GPS-equipped bike by scanning a QR code with the Spin app.
Park the self-locking Spin bike safely next to a campus bike rack, ensuring that it does not block pedestrian or vehicle access. Specially designated campus bike zones will be created as demand patterns are identified.
Spin will make their services available to non-smartphone users; details will be announced by January kick-off event.
Spin app hasn't ended a trip?
See what to do if the timer continues after you ended your trip.
Bike Helmets
We strongly encourage all riders to wear a helmet to help reduce the risk of severe head injury if an accident occurs. You ride at your own risk.
You are responsible for providing your own helmet, however, Commute Solutions has a limited number of helmets available for riders to borrow. Commute Solutions also has coupons for $20 off a helmet at Campus Bike & Skate for UC San Diego affiliates with current campus photo ID, while supplies last. Riders under 18 years old must wear bicycle helmets in accordance with state law.
Spin Contact Instructions
In all communication, please include the bike's 7-digit license plate number and type of bike issue or why it needs to be relocated.
Email: ucsdsupport@spin.pm (fastest response)
Phone: 1-888-262-5189 to leave a message for our support team
URL: https://help.spin.pm
App item: Chat with our help center through the app by clicking the profile tab > help button > "Contact Spin" button which opens chat dialogue with our support team.
Feedback
Transportation Services wants to hear about your Spin bikeshare experience. If you have comments or suggestions for improving campus bikesharing, contact iRide@ucsd.edu. .