Triton U-Pass for Students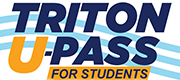 Triton U-Pass is a UC San Diego universal transit pass program  that provides students unlimited ridership on all regional MTS and NCTD mass transit bus and trolley/light rail routes. This excludes:
NCTD: Coaster Train, FLEX and LIFT
MTS: Rural Routes (888, 891, 892 and 894), Rapid Express Routes (currently 270, 280 and 290) and Access
Availability
U-Pass stickers are valid during fall, winter and spring quarters only. The 2016-17 U-Pass stickers are available at the campus parking office during regular hours.
All undergraduate and graduate students who have paid quarterly registration fees are eligible for a U-Pass. Eligibility verification and student ID are required.
UC San Diego Extension students and visiting scholars are not eligible for the program.
Have Transportation Services validate your eligibility and affix your U-Pass sticker to your student ID.
Show your U-Pass to the MTS or NCTD bus driver as you board. When riding the MTS trolley or NCTD Sprinter, be prepared to present your U-Pass to officials upon request.
Students also need a U-Pass sticker to ride the CityShuttle.
U-Pass is non-transferable. Do not let anyone else use your U-Pass or MTS will revoke access to the U-Pass program for all involved parties. The university may also take additional disciplinary action.
Report problems with U-Pass immediately. For any issues or complaints related to services, bus drivers or problems using your U-Pass, contact the service provider.