Triton U-Pass for Students
Triton U-Pass is a UC San Diego universal transit pass program  that provides students unlimited ridership on all regional MTS and NCTD mass transit bus and trolley/light rail routes. This excludes:
NCTD: Coaster Train, FLEX and LIFT
MTS: Rural Routes (888, 891, 892 and 894), Rapid Express Routes (currently 270, 280 and 290) and Access
Eligibility
All current undergraduate and graduate students who have paid quarterly registration fees are eligible for a U-Pass. Eligibility verification and student ID are required.
UC San Diego Extension students and visiting scholars are not eligible for the program.
U-Pass Cloud Pilot Spring 2018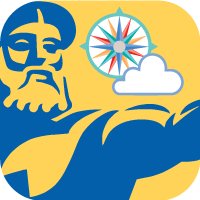 Transportation Services is working with MTS to change how UC San Diego students use U-Pass by pilot testing a new U-Pass Cloud app for smartphones — iPhone or Android. This gives you flexibility to use a smartphone or photo ID card with a valid U-Pass sticker to ride transit.
Activate your account by completing the online sales transaction for the $0 UMW18 – Triton U-Pass Cloud.
Download the Compass Cloud app from the App Store on your smartphone and create your account using your @ucsd.edu email address.
Your UC San Diego U-Pass will appear under "My Tickets." It may take up to 1.5 business days for the app to update.
If you signed up for U-Pass Cloud during Winter Quarter, your ticket expiration date will be updated automatically to June 30, 2018.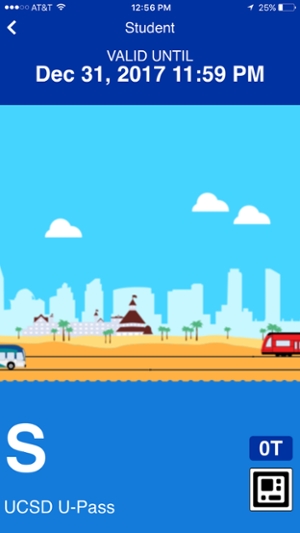 With U-Pass Cloud, you are required to show your current UC San Diego student photo ID card if requested by transit officials.
You do not need a network or wireless connection to use U-Pass Cloud because it's stored on your phone.
Open the Compass Cloud app on your smartphone and select "My Tickets" from the menu on the left of the screen. Your pass will be displayed.
Select UCSD U-Pass listed under "Stored Tickets." A pop-up window will ask, "Would you like to use this ticket?" Select "Use Ticket."
The pass will then activate displaying the animated Trolley, buses and COASTER on screen with the expiration date at the top. Tap the back arrow at the top left of your active ticket to return to the "My Tickets" screen. Your active pass will be shown at the top of the list, under "Tickets in Use."
To use the interactive feature, tap on the pass and it will change colors. Tapping again returns the pass to its original state.
For the bus, activate your mobile pass by tapping "Use" before you board the vehicle.
For rail (Trolley or Sprinter), activate your ticket by tapping "Use" as you get on the platform. Your ticket must be activated in all fare-required areas. Tickets activated less than two minutes prior to inspection are subject to a fare violation citation.
Display QR code If an operator or fare inspector requests it. To activate the QR-code on your pass, tap on the small square QR-code icon in the bottom right corner of your active pass; tap again to close it. Fare inspectors may use the QR-code embedded within the pass to verify valid transit fare.
Why can't I access my U-Pass?
Only students who sign up online and receive an email confirmation will be able to access the U-Pass ticket in the app. You must use your @ucsd.edu email address when you create your account in the app to access your U-Pass.
Why doesn't my pass activate quickly?
Some smartphones with older operating systems do not work as fast as newer phones. If you have an older phone, give yourself plenty of time to activate the ticket before the vehicle arrives or entering the fare-required zone. Make sure you don't have too many applications open because this can affect app performance.
What if my app is unresponsive?
Try logging out of the app and logging back in, and then try powering your phone off and then back on.
What if my phone battery is dead?
You are responsible for showing proof of valid fare to operators, fare inspectors or other authorized personnel. If your device cannot display an active pass, use your UC San Diego photo ID with valid U-Pass sticker.  Otherwise, you will be responsible for paying the standard fare.
What if I have a new or lost phone?
You should recall your pass before resetting your phone, uninstalling the app or getting a new device. Log into your Compass Cloud account, navigate to "My Account" and then to "My Tickets" and click the "Recall my Tickets" button. Follow the instructions to recall your pass.
When you sign into your new app, you will be taken to the "My Tickets" screen if you have retrievable tickets. Then, tap the "Retrieve My Tickets" button. You can also complete this process from the "My Account" section of the app.
Who do I contact for assistance with the Compass Cloud app?
Visit MTS Customer Service or contact the Compass Service Center, (619) 595-5636.
U-Pass Sticker
U-Pass stickers are valid during fall, winter and spring quarters only. The 2017-18 U-Pass stickers are available at Commute Solutions.
Some U-Pass sticker printing is rubbing off, exposing the silver backing and transit operators may not honor unreadable stickers. If your U-Pass sticker becomes unreadable, please bring your UC San Diego student ID to Commute Solutions in the campus parking office to get a replacement sticker. Consider using the U-Pass Cloud app on your smartphone as your primary U-Pass.
Have Transportation Services validate your eligibility and affix your U-Pass sticker to your student ID.
Show your U-Pass to the MTS or NCTD bus driver as you board. When riding the MTS trolley or NCTD Sprinter, be prepared to present your U-Pass to officials upon request.
U-Pass is non-transferable. Do not let anyone else use your U-Pass or MTS will revoke access to the U-Pass program for all involved parties. The university may also take additional disciplinary action.
Report problems with U-Pass immediately. For any issues or complaints related to services, bus drivers or problems using your U-Pass, contact the service provider.
Rider Resources
Questions?
Contact Commute Solutions.