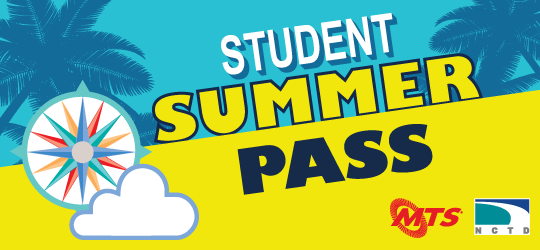 UC San Diego Student Summer Pass
The Triton U-Pass program, funded by quarterly fees, offers students unlimited transit access during fall, winter and spring quarters. U-Pass does not provide transit access during the summer. The current Triton U-Pass ID card sticker and Cloud App are valid through June 30, 2018.
Transportation Services and student and campus leaders worked with MTS to offer students a discounted transit pass again this summer. Summer Pass is a Compass Card that:
Allows unlimited access to regional MTS and NCTD bus and rail routes, including the Trolley, Sprinter and Rapid routes
Is available online only and costs $36 — not transferable or refundable
Is valid through Sept. 30, 2018
Eligibility
All UC San Diego undergraduate and graduate students continuing from Spring Quarter 2018 to Fall Quarter 2018 and students who are enrolled in Summer Session classes are eligible to purchase a Summer Pass.
Purchase a Summer Pass
Purchase Summer Pass online with Visa, Mastercard, cash or student account.
Using Your Compass Card
Use the Compass Card with your UC San Diego photo ID. Bus operators or fare inspectors may ask for proof that you are a UC San Diego student.
To ride, tap your card on the Compass Card target located on or near the bus fare box, or on validator pedestals at Trolley stations.
Report problems with Compass Card immediately to MTS. Call (619) 557-4555, weekdays 9 a.m.– 5 p.m. During non-business hours, leave a recorded message. You can also complete the MTS Contact Form.
More rider information – Route maps, schedules, trip planning tools and service notices
Replacing a Lost Compass Card
Transportation Services provides one free replacement card with the cancellation of a lost or stolen card. Additional replacement cards cost $15 each.
To replace a lost Compass Card, visit Commute Solutions in the campus parking office. Bring your current student photo ID.
Questions?
Contact Commute Solutions.