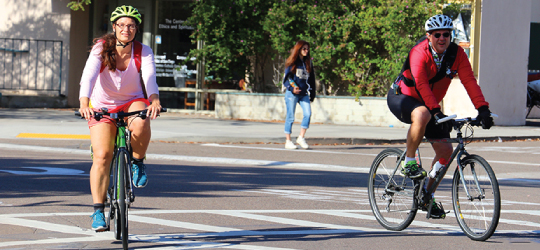 Pedal Club
Any faculty, student or staff member who lives off campus and does not hold a limited or annual parking permit may join the Pedal Club.
To be a Pedal Club member, you must:
Commit to cycling for most of your commutes to UC San Diego
Register your bicycle with the state of California and maintain a valid registration sticker (register your bicycle online)
Maintenance discount: Get a 10% discount on accessories, parts and labor at UCSD Bike & Skate.
Free shower access (without a recreation card): Bring your valid UC San Diego ID toFront desk at the Main Gym or Canyonview Pool  (RIMAC not included) and identify yourself as a Pedal Club member. A staff member will scan your ID barcode. Lockers are available for day use.
Park free when necessary: Receive a complimentary 10-Day permit each quarter. (Undergraduate students are not eligible to receive these parking permits.)
Emergency rides home: Register in advance for Guaranteed Ride Home, a SANDAG program that provides rides in case of illness, unscheduled overtime, or family emergencies. Registered users, dial 511 when you need a ride.
Drive shared vehicles: Pay no Zipcar application fee and receive rental credits (when you meet UC San Diego eligibility requirements).
Fall 2018 Recreation Promotion
NEW! All Pedal Club members will receive a 3-day trial Recreation membership good for fall quarter. The trial membership is valid for any three days during fall quarter at RIMAC, Main Gym or Canyonview. Check in with the front desk staff to redeem your Pedal Club 3-day trial pass on the first day of use.
Enjoy the convenience and ease of working out on campus! Staff from all VC areas and several other campus departments can get half off a Rec Card membership. Get a gym membership for only $18 when you sign up for monthly autopay (price includes the VC discount). With your Rec Card you can use any of our campus facilities during open hours and receive discounted rates on recreation classes. For details, visit recreation.ucsd.edu/membership.
Register your bicycle online. A $6 registration fee applies. (Credit card or student account accepted.)
Pick up your bike license stickers from UC San Diego Police substation located inside Price Center East (across from Burger King).
Register for the Pedal Club by calling Commute Solutions, (858) 534-7433. Registration is free and requires:
Valid UC San Diego ID number
License and renewal stickers properly affixed to your bicycle
Documentation of class schedule – undergraduates only
Once Commute Solutions authorizes your registration, you will be eligible to order your quarterly 10-Day incentive permit.
Questions?
Contact Commute Solutions.