May is Bike Month
For details, visit iCommute Bike Month.
In support of National Bike Month and the regional GO by BIKE initiative, UC San Diego will participate in the 2019 Bike To Work Day event, Thursday, May 16. When you register for Bike to Work Day, you can pick up a free t-shirt at any San Diego County  pit stops from 6–9 a.m. You'll need your confirmation printed or on your smartphone to pick up your T-shirt.
Free Bike Repair
The Student Sustainability Collective is hosting a free bike repair event Monday, May 20 from 10 a.m. to 1 p.m. on Library Walk.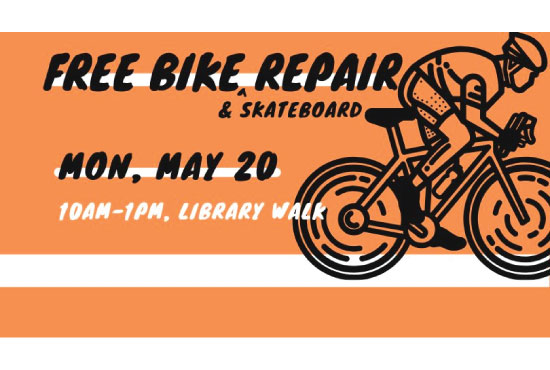 Plan Your Route
You can use these resources to plan your bicycle commute route before you ride:
UC San Diego Pit Stops 
Campus: 6–10 a.m., Town Square near Student Business Services
Hillcrest: 6–9 a.m., location change – west side of Montecito Parking Lot (Front St. side); enter from 1st Ave.
Join UC San Diego bicycle commuters at our breakfast pit stops. Transportation Services partners with Housing, Dining & Hospitality to provide refreshments, including self-serve bagels, muffins, fruit and coffee. We'll have an instant-win prize raffle and bicycle safety drawing, while supplies last.
Ride Safely